Welcome to Safe Church resource section.
Should you have questions, need assistance, please connect with Carolyn Hoekstra, Classis Quinte Safe Church Coordinator at hoekstracarolyn@gmail.com.
EVENTS:
Classis Quinte Safe Church Team Meeting
Date: Tuesday, November 7 1:30 pm
Click here for Agenda (Meeting Zoom Link(s) are available within the Agenda)
Click here for the MINUTES to November 7th meeting.
RESOURCES:
This section is to help you and your church prepare and provide updated Safe Church Policies and forms. (Resources shown in BOLD text are live links.)
1. Safe Church Policy Template - This template is complete with policy, guidelines, forms for use within your church. To insert your church's name into the document, follow the "HOW TO" Insert pdf sheet.
2. Safe Church Policy CHECKLIST - a form to utilize when auditing your current policy. This checklist is based on the Robertson-Hall Insurance Abuse Prevention Declaration for churches and/or charitable organizations. NOTE: When using this FILLABLE Word document, please download and save a copy to your desktop to make this a usable form.
3. FORMS: Should you already have your policy completed, and only require one or more forms
Appendix C: Confidentiality
Appendix D: CRC Code of Conduct (Group Signatures)
Appendix D: CRC Code of Conduct (Single Signature)
Appendix E: Children & Youth Worker APPLICATION form
Appendix F: Children & Youth Worker RENEWAL form
Appendix G: Participation & Release Form (includes Photo & Media Release Form) (for Gems, Cadets, Youth, etc.)
Appendix H: Accident/Incident Reporting Form
THRIVE Website

(formally Safe Church Ministry)
Available TRAINING Resources:
1. Policy Overview (Video) for Congregational use - This is a 10-minute video explaining the various parts of the policy and reviewing the definition of abuse. Good resource to show at congregational meetings or before a Worship service. (NOTE: this is not a Training Video for Ministry Leaders/Volunteers.)
2. Online (CRCNA Safe Church) The Power to Do Good: The Use and Misuse of Power in the Church
This is a free training. You need to create your profile prior to completing the online course.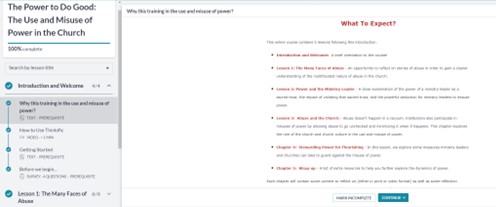 3. Suicide Prevention Guidelines - N.I.C.E Online resource
Still to come:
Training for Ministry Leaders, Council, Volunteers (hopefully available by end of Dec. 2023)
Keep coming back for updates and new resources.
Should you need something, please reach out to Carolyn Hoekstra for assistance.